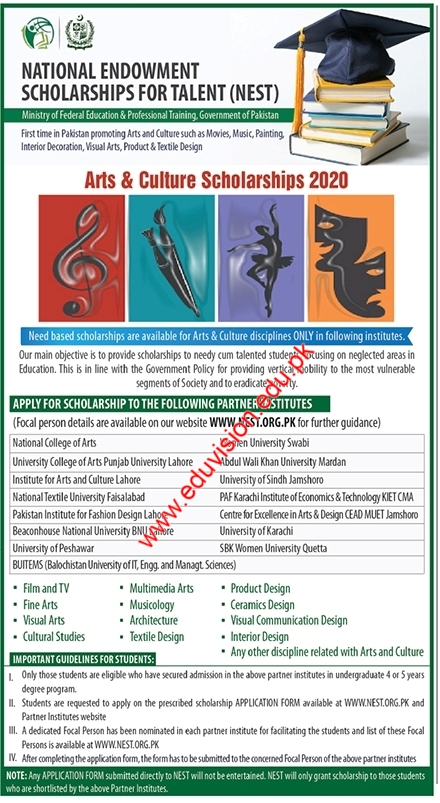 ARTS & CULTURE SCHOLARSHIP 2020
NEST SCHOLARSHIP FOR ARTS & CULTURE STUDENTS
GUIDELINES FOR NEST Scholarship 2020
Only for the students of Partner Institutes.
Students are requested to apply on the prescribed scholarship application form available HERE and Partner Institutes website.
Please check the list of PARTNER INSTITUTES and their dedicated focal persons.
After completing the application form, submit to the concerned Focal Person along with required documents.
Only Students enrolled in undergraduate 4 or 5 years degree program are eligible to apply.
NOTE: Any APPLICATION FORM submitted directly to NEST will not be entertained, NEST will only grant scholarship to those students who are shortlisted by the above Partner Institutes only
NEST Arts and Culture Scholarship Disciplines
Students studying in the following disciplines can apply for NEST Arts and Culture Scholarships 2020.
Film and TV
Fine Arts
Visual Arts
Cultural Studies
Multimedia Arts
Musicology
Architecture
Textile Design
Product design
Ceramics Design
Visual Communication Design
Interior Design
Any other discipline related with Arts and Culture
NEST Arts and Culture Scholarship Partner Institutions
STUDENTS ARE REQUESTED TO APPLY SCHOLARSHIP DIRECTLY TO THE FOLLOWING PARTNER INSTITUTES (For further information and guidance and assistance contact relevant Institutes Focal person)
1. National College of Arts
2. University College of Arts Punjab University Lahore
3. Institute for Arts and Culture Lahore
4. National Textile University Faisalabad
5. Pakistan Institute for Fashion Design Lahore
6. Beaconhouse National University BNU Lahore
7. University of Peshawar
8. BUITEMS (Balochistan University of IT, Engg. and Managt. Sciences)
9. Women University Swabi
10. Abdul Wali Khan University Mardan
11. University of Sindh Jamshoro
12. PAF Karachi Institute of Economics & Technology KIET CMA
13. Centre for Excellence in Arts & Design CEAD MUET Jamshoro
14. University of Karachi
15. SBK Women University Quetta
How to apply for NEST Arts & Culture Scholarship 2020
Only those students are eligible to apply who have secured admission in the above partner institutes in undergraduate 4 to 5 years degree program.
Students are requested to apply on the prescribed application form available at www.nest.org.pk and partner institute websites.
A dedicated focal person has been nominated in each partner institute for facilitating the students. List of focal persons is also available at NEST website.
After completing the application form, the form is to be submitted to the focal person of the respective institutes. Applications submitted directly to NEST will not be entertained.
Download NEST Scholarship Application form: