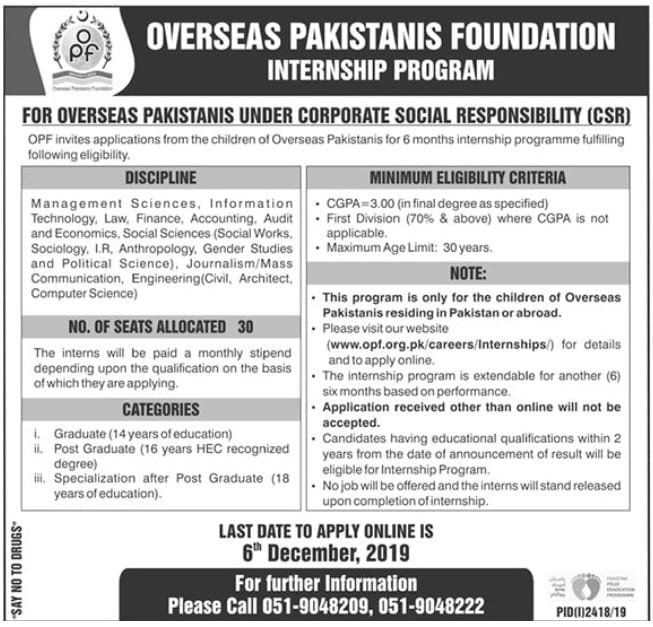 Overseas Pakistanis Foundation Internship Program
for overseas Pakistanis under corporate social responsibility (CSR)
OFP Invites application from the children of overseas Pakistanis for 6 months internship programme fulfilling following eligibility.
DISCIPLINE:
Management Science, IT, Law, finance, Accounting audit and economics, social science (Social Works, Sociology, IR, Anthropology, Gender studies, and Political science ) Journalism/Mass Communication, Engineering (Civil, Architect, computer science)
No.Of Seats – 30
the interns will be paid a monthly stipend depending upon the qualification on the basis of which they are applying.
Categories:
i. Graduate (14 years of education
ii. Post Graduate 916 years HEC Recognized degree)
iii. Specialization after postgraduate (18 years of education)
Minimum Eligibility
-> CGPA= 3.00 (In final degree as specified)
-> For division (70% & above) where CGPA is not applicable.
-> Max age limit: 30 Years.
Note:
-> This program is only for children of overseas Pakistanis residing in Pakistan is abroad.
-> Please visit our Website. (www.opf.org.pk/internships/) for details and to apply online.
-> The internship program is extendable for another 6 monthh based on performance.
-> No application will be accepted after the due date.
-> Candidates having educational qualifications within 2 years from the date of announcement of result will be eligible for internship program.
-> No job will be offered and the interns will stand released upon completion of internship.
Thanks for visiting Balochistanjobs.com hope you like this post, for internship programs kindly visit below link:-