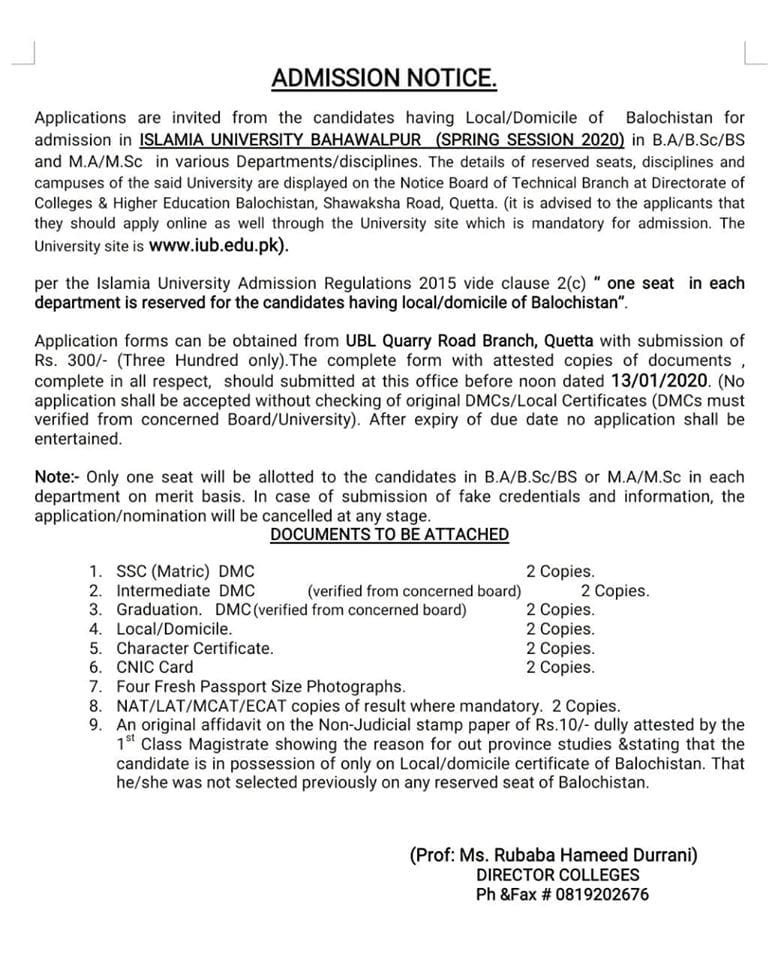 Reserved Seats For Balochistan in Islamia University Bhawalpur
ADMISSION NOTICE.
Applications are invited from the candidates having Local/Domicile of Balochistan for admission in ISLAMIA UNIVERSITY BAHAWALPUR (SPRING SESSION 2020) in B.A/B.Sc/BS and M.A/M.Sc in various Departments/disciplines. The details of reserved seats, disciplines and campuses of the said University are displayed on the Notice Board of Technical Branch at Directorate of Colleges & Higher Education Balochistan, Shawaksha Road, Quetta. (it is advised to the applicants that they should apply online as well through the University site which is mandatory for admission. The University site is www.iub.edu.pk).
per the Islamia University Admission Regulations 2015 vide clause 2(c) " one seat in each department is reserved for the candidates having local/domicile of Balochistan".

Application forms can be obtained from UBL Quarry Road Branch, Quetta with the submission of Rs. 300/- (Three Hundred only). The complete form with attested copies of documents, complete in all respect, should submitted at this office before noon dated 13/01/2020. (No application shall be accepted without checking of original DMCs/Local Certificates (DMCs must be verified from concerned Board/University). After expiry of due date, no application shall be entertained.

Note:- Only one seat will be allotted to the candidates in B.A/B.Sc/BS or M.A/M.Sc in each department on a merit basis. In case of submission of fake credentials and information, the application/nomination will be canceled at any stage.
DOCUMENTS TO BE ATTACHED
SSC (Matric) DMC 2 Copies.
Intermediate DMC (verified from concerned board) 2 Copies.
Graduation. DMC(verified from concerned board) 2 Copies.
Local/Domicile. 2 Copies.
Character Certificate. 2 Copies.
CNIC Card 2 Copies.
Four Fresh Passport Site Photographs.
NAT/LAT/MCAT/ECAT copies of result where mandatory. 2 Copies.
An original affidavit on the Non-Judicial stamp paper of Rs.10/- dully attested by the 1′ Class Magistrate showing the reason for out province studies &stating that the candidate is in possession of only on Local/domicile certificate of Balochistan. That he/she was not selected previously on any reserved seat of Balochistan.