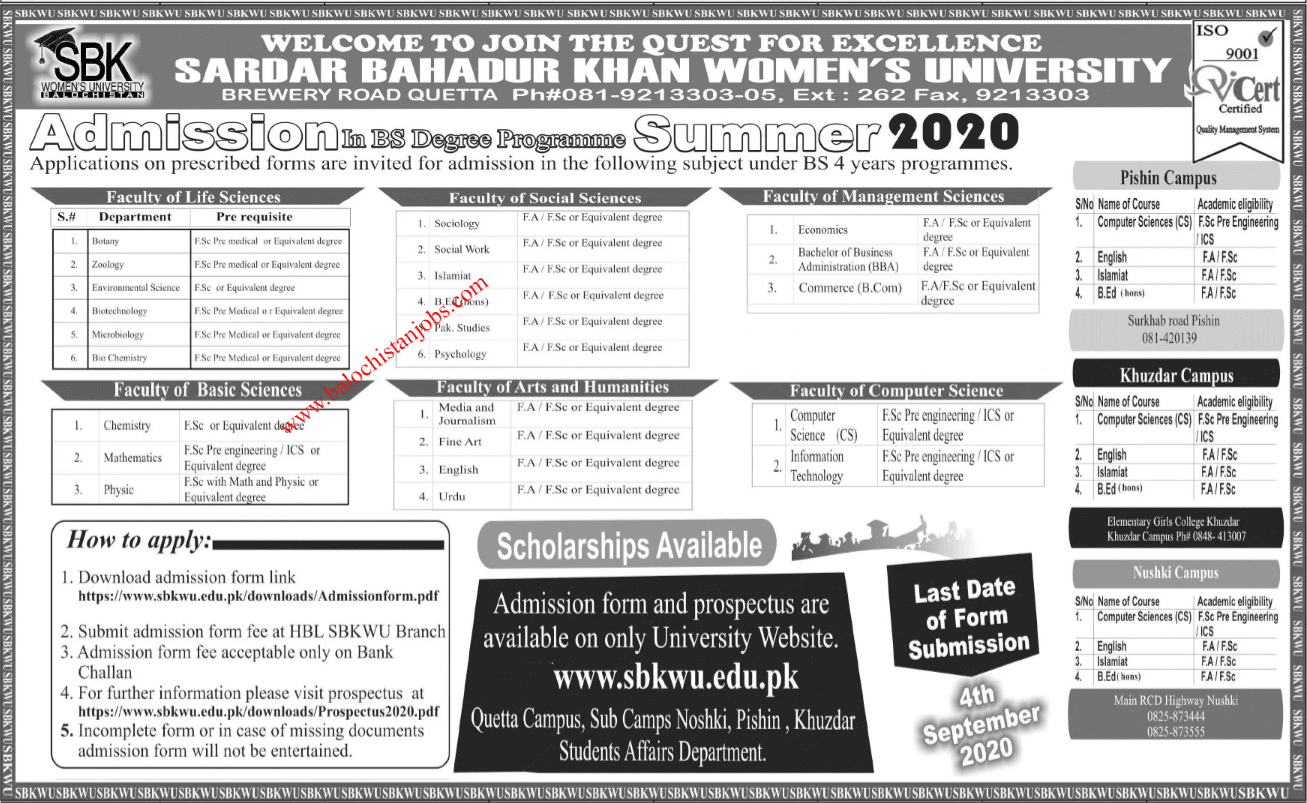 Sardar bahadur khan women university SBKwu Admission 2020
SBKwu (Sardar bahadur khan women's university has announced its summer season admission in BS Program, interested and eligible candidates must apply through proper channel. last date to apply is 4th September 2020.
Admission in BS Program Summer 2020
Application on prescribed form are invited for admission in the following subjects under BS 4 year program.
List of Faculties of BS Program admission in SBKwu:
1. Faculty of life sciences
Botany
zoology
environmental science
biotechnology
Microbiology
bio chemistry
2. Faculty of social sciences:
Sociology
Social work
Islamiat
B.ed
Pak study
Psychology
3. Faculty of management Sciences:
Economic
BBA
B.com
4. Faculty of Basic Sciences:
Chemistry
math
Physics
5. Faculty of arts and humanities:
Media and journalism
Fine arts
Urdu
English
6. Faculty of Computer Science:
Computer Science
Information technology
---
SBKwu Pishin Campus admission 2020
List of courses of pishin campus:
Computer science
English
Islamiat
B.ed
Address: surkhab road pishin
Contact: 081-420139
---
SBKwu Khuzdar Campus admission 2020
List of courses of khuzdar campus:
Computer science
English
Islamiat
B.ed
Address: elementary girls college khuzdar campus
Contact: 0848-413007
---
SBKwu Nushki Campus admission 2020
List of courses of Nushki campus:
Computer science
English
Islamiat
B.ed
Address: RCD Highway Nushki
Contact: 0825-873444/ 0825-873555
Last date of Form submission is 4th Sep 2020
How to apply for admission in SBKwu admission 2020:
Download admission form by clicking here: https://www.sbkwu.edu.pk/sbkwu_new/downlaods
Submit admission form fee at HBL, SBKWU branch
admission form fee only acceptable only on bank chalan
for further information please visit at: https://www.sbkwu.edu.pk/
Incomplete form or in case of missing documents admission form will not be entertained.
admission form and prospectus are available in https://www.sbkwu.edu.pk/
Scholarships Available in SBKWU quetta:
Following admissions are available in sardar bahadur khan women university:
HEC
BEEF
Ehasas
sardar bahadur khan women's university fee structure
Fee Structure (BS Program)
Science Departments
Details
Initial Fee (Rs)
Per Semester Fee (Rs)
Admission Fee
1200.00
Examination Fee
1200.00
1200.00
Tution Fee
2500.00
2500.00
ID card Fee
170.00
S. Cultural Activities Fee
665.00
665.00
Sports Fee
775.00
775.00
Library Fee
1200.00
1200.00
Laboratory / Field Work
1200.00
1200.00
Security Fee
1200.00
Total Fee
10,110.00
7540.00
Arts Departments
Details
Initial Fee (Rs)
Per Semester Fee (Rs)
Admission Fee
1200.00
Examination Fee
1200.00
1200.00
Tution Fee
2500.00
2500.00
ID card Fee
170.00
S. Cultural Activities Fee
665.00
665.00
Sports Fee
775.00
775.00
Library Fee
1200.00
1200.00
Field Work / Lab Fee
1200.00
1200.00
Security Fee
1200.00
Total Fee
10,110.00
7540.00
BS (Computer Science, Bio-Tech & BBA Departments)
Details
Initial Fee (Rs)
Per Semester Fee (Rs)
Admission Fee
6200.00
Examination Fee
1200.00
1200.00
Tution Fee
5060.00
5060.00
ID card Fee
170.00
S. Cultural Activities Fee
665.00
665.00
Sports Fee
775.00
775.00
Library Fee
1200.00
1200.00
Laboratory / Field Work
1200.00
1200.00
Security Fee
1200.00
Total Fee
17,670.00
10,100.00
BBS Departments
Details
Initial Fee (Rs)
Per Semester Fee (Rs)
Admission Fee
6600.00
Examination Fee
1200.00
1200.00
Tution Fee
5700.00
5700.00
ID card Fee
170.00
S. Cultural Activities Fee
665.00
665.00
Sports Fee
775.00
775.00
Library Fee
1200.00
1200.00
Laboratory / Field Work
1200.00
1200.00
Security Fee
1200.00
Total Fee
18,710.00
10,740.00
Pharmacy Departments
Details
Initial Fee (Rs)
Per Semester Fee (Rs)
Admission Fee
6600.00
Examination Fee
1200.00
1200.00
Tution Fee
9500.00
9500.00
ID card Fee
170.00
S. Cultural Activities Fee
665.00
665.00
Sports Fee
775.00
775.00
Library Fee
1200.00
1200.00
Laboratory / Field Work
1200.00
1200.00
Security Fee
1200.00
Total Fee
22,510.00
14,540.00
For any queries and furthur information please feel free to contact at following
Department of Student Affairs
SBK Women's University Quetta
Contact number: +92 (081) 9213303 , 9213304 , 9213305
Ext: 262